Insulated Concrete Forms (ICF) + Evolution
Our solution for your projects with a tight and very demanding finishing schedule. Consist of two panels of foam held together with cross ties or "webs" which creates a block.. The block is filled with Evolution® Concrete providing a load bearing structure that will provide superior structural performance compared to traditional systems. This system can provide additional benefits like reducing your DEWA Bill by 35% to 40% and can reduce construction time by up to 25%.
SUITABLE FOR

✓ Bearing Walls Panels
✓ Non-Bearing or Partitioning Walls
✓ Floor or Slab Panels

ADVANTAGES

✓ Fire resistance up to 120 minutes.
✓ Acoustic performance up to 50 Db
✓ Flexibility of design (No beam system required)
✓ Superior K (0.084) value compared with concrete blocks.
✓ Increase site productivity by speeding construction time (120 m2 per day output)
✓ Can score points for LEED or ESTIDAMA
Technical Data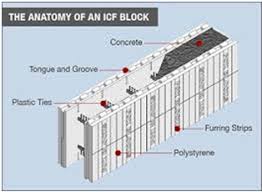 | | |
| --- | --- |
| Flexural Grade (N/mn2) | 30 to 60 |
| Flow (mm) | 550 to 650 |
| Flow Retention (min) | 90 to 120 |
| Maximum Aggregate Size (mm) | 10-20 |
| Typical Density (Kg/m3) | 2,400 |
| Cement Types | OPC, SRC, MSRPC |
CEMEX will provide you access to our highly experienced technical team who will be able to create bespoke mixes for all your readymix concrete needs. Our technical team has a vast experience of producing unique mixes for individual jobs, and can facilitate issues such as corrosive ground conditions, extreme weather conditions and high strength requirements. CEMEX will work to your specification, or if requested provide suggestions to ensure that we meet the specific needs of your project.