ReadyGREEN® is a range of high performance, low carbon concretes designed to offer certified Carbon Footprint reduction and enhanced durability when compared to normal concretes made with conventional OPC cement. Certification of environmental performance is available via CEMEX's unique Carbon Footprint tool.
Lower environmental impact

✓ Reduction of Carbon Footprint by up to 45%
✓ Increased durability, reduced repair and maintenance costs
✓ Certified performance to international environmental standards

High performance

✓ Optimised for UAE environmental conditions
✓ Excellent workability, pumpability and compaction

Superior chemical protection

✓ Greater chloride penetration resistance than OPC based concrete
✓ Sulfate resistance superior to OPC concrete
✓ Lower heat of hydration than OPC concrete (reduced risk of thermal cracking)

Enhanced appearance

✓ Lighter even colour
✓ Greater reflectivity for better visibility and safety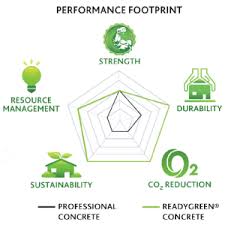 Project Spotlight



Mirdif City Centre, Dubai
CEMEX supplied over 168,000m3 of low carbon ready-mix concrete for Mirdif City Centre. The shopping mall is the first in the region to follow ecologically friendly and sustainability compliant construction techniques from its early design and is Dubai's first LEED Gold rated mall.

Technical Data

| | |
| --- | --- |
| Concrete Grade (N/mn2) | 20 to 60 |
| Durability (RCP, WP, WA) | 1000 to 3500, 10 to 20mm, 1.5 to 3.0 |
| Workability Slump (mm) | 75 to 200 |
| Workability Retention (Hours) | up to 3 |
| Maximum Aggregate Size (mm) | 10 to 20 |
| Typical Hardened Density (Kg/m3) | 2450 |
| Cement Types2 | OPC |
| Supplementary Cementitious Materials3 | DURACEM® |
| Colours | Grey or Light Grey |

CEMEX will provide you access to our highly experienced technical team who will be able to create bespoke mixes for all your readymix concrete needs. Our technical team has a vast experience of producing unique mixes for individual jobs, and can facilitate issues such as corrosive ground conditions, extreme weather conditions and high strength requirements. CEMEX will work to your specification, or if requested provide suggestions to ensure that we meet the specific needs of your project.