CEMEX Shotcrete is a specially designed concrete developed for use with compressed air spraying equipment. Shotcrete is a fast and effective way to apply a concrete in areas where using conventional concrete would be difficult. CEMEX Shotcrete also formas an integral part of an innovative low cost, low carbon housing solution.
Rapid construction method

✓ Savings in time and labour
✓ Reduction in wastage

Can be applied in any shape

✓ Can make shapes that are hard to achieve in conventional concrete

Elimination of formwork

✓ Reduced costs
✓ Storage area not required for formwork
✓ Craneage not required for formwork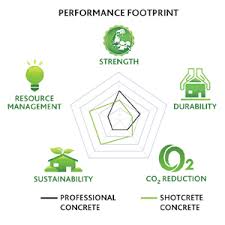 Project Spotlight



Legend Villas - Dubai
CEMEX is supplying Shotcrete to a contractor using an insulated wall panel system to eliminate the need to construct blockwork walls. The system gives savings in time, cost and labour compared to the conventional blockwork system.

Find out more about our EPS + SHOTCRETE application, click here

Technical Data

| | |
| --- | --- |
| Concrete Grade (N/mn2) | 05 to 40 |
| Durability (RCP, WP, WA) | Not required |
| Workability Slump (mm) | 75 to 200 |
| Workability Retention (Hours) | 2 to 8 |
| Maximum Aggregate Size (mm) | 5 or 10 |
| Typical Hardened Density (Kg/m3) | 2300 |
| Cement Types2 | OPC |
| Supplementary Cementitious Materials3 | DURACEM® |
| Colours | Grey |

CEMEX will provide you access to our highly experienced technical team who will be able to create bespoke mixes for all your readymix concrete needs. Our technical team has a vast experience of producing unique mixes for individual jobs, and can facilitate issues such as corrosive ground conditions, extreme weather conditions and high strength requirements. CEMEX will work to your specification, or if requested provide suggestions to ensure that we meet the specific needs of your project.